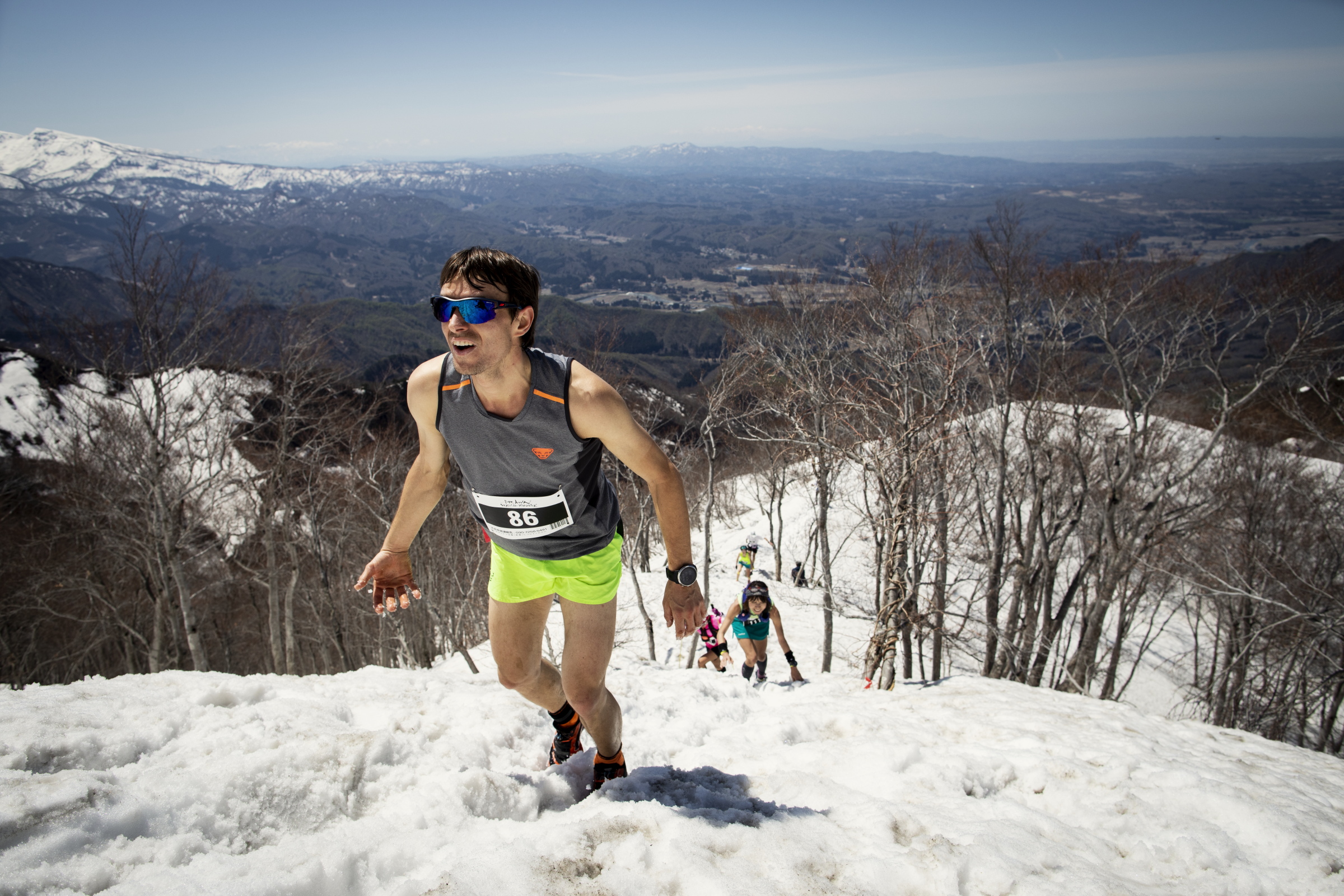 For the first time in its history, the Vertical Kilometer® World Circuit landed in Japan for the 2019 season opening, with wins for Pascal Egli (SUI) and Oihana Azkorbebeitia (ESP) at the Mt Awa Vertical Kilometer®.
Due to an avalanche warning, slight changes were made to the original route, avoiding a risky climb to the summit. But despite this, the B Course did not disappoint. The new route with 4,7km and 1,000 m of elevation gain, presented a technical race over steep and snow-covered ridges in the raw Japanese nature.
The race began with a warm up lap in the town of Sanjo, where locals and fans were out in force to cheer runners on as they set off. The first to arrive at the finish line was Spanish runner Ohiana Azkorbebeitia, who showed absolutely no fear in the snow, finishing strong with a time of 53'34".
"It was very difficult but I'm happy. This is my first race of the season and I feel fresh! I think it's going to get a lot tougher though and I'm already looking forward to the longer Sky Race tomorrow." said theSpanish runner from team Euskal Herriko Selekzioa. Yuri Yoshizumi (JPN) crossed the finish line one minute behind Azkorbebeitia with a time of 54'34" and in third place was Tateishi Yuki (JPN) in 59'57".
The men's field was led by Pascal Egli (SUI) team Dynafit. Egli, who finished with a time of 42'52", has recently made a comeback after suffering from an injury. The top athlete arrived at the top with a huge smile on his face and was rewarded with spectacular views of the Japanese Alps.
"The course was amazing! It was tough – a lot more technical than I thought it would be. The snow made it pretty slippy in some places and the Japanese runners are strong so it was a challenge. But when I look at this view, I'm just happy I could run here. I've been injured and I wasn't sure my fitness level was up to it, so I'm happy with the result."said Egli.
Toru Miyahara (JPN) finished 2nd in 44'29" and Takashi Shinushigome (JPN) closed the podium with a time of 45'47".
Stay tuned for the next race in the circuit, where we swap snow for volcanic rock at the Transvulcania Vertical Kilometer on May 9thon the island of La Palma. Here, top specialists will continue competing for the female and male champion titles and the €10,000 end of season bonus pool.
Mt. Awa Vertical Kilometer Results:
Men
Pascal Egli (SUI) – 42'52"
Toru Miyahara (JPN) – 44'29"
Takashi Shinushigome (JPN) – 45'47"
Yota Wada (JPN) – 47'47"
Tsubasa Fuji (JPN) – 47'52"
Women
Oihana Azkorbebeitia (ESP) – 53'34"
Yuri Yoshizumi (JPN) – 54'34"
Tateishi Yuki (JPN) – 59'57"
Yasugahira Moeko (JPN) – 1h01'32"
Takahashi Yurina (JPN) – 1h02'28