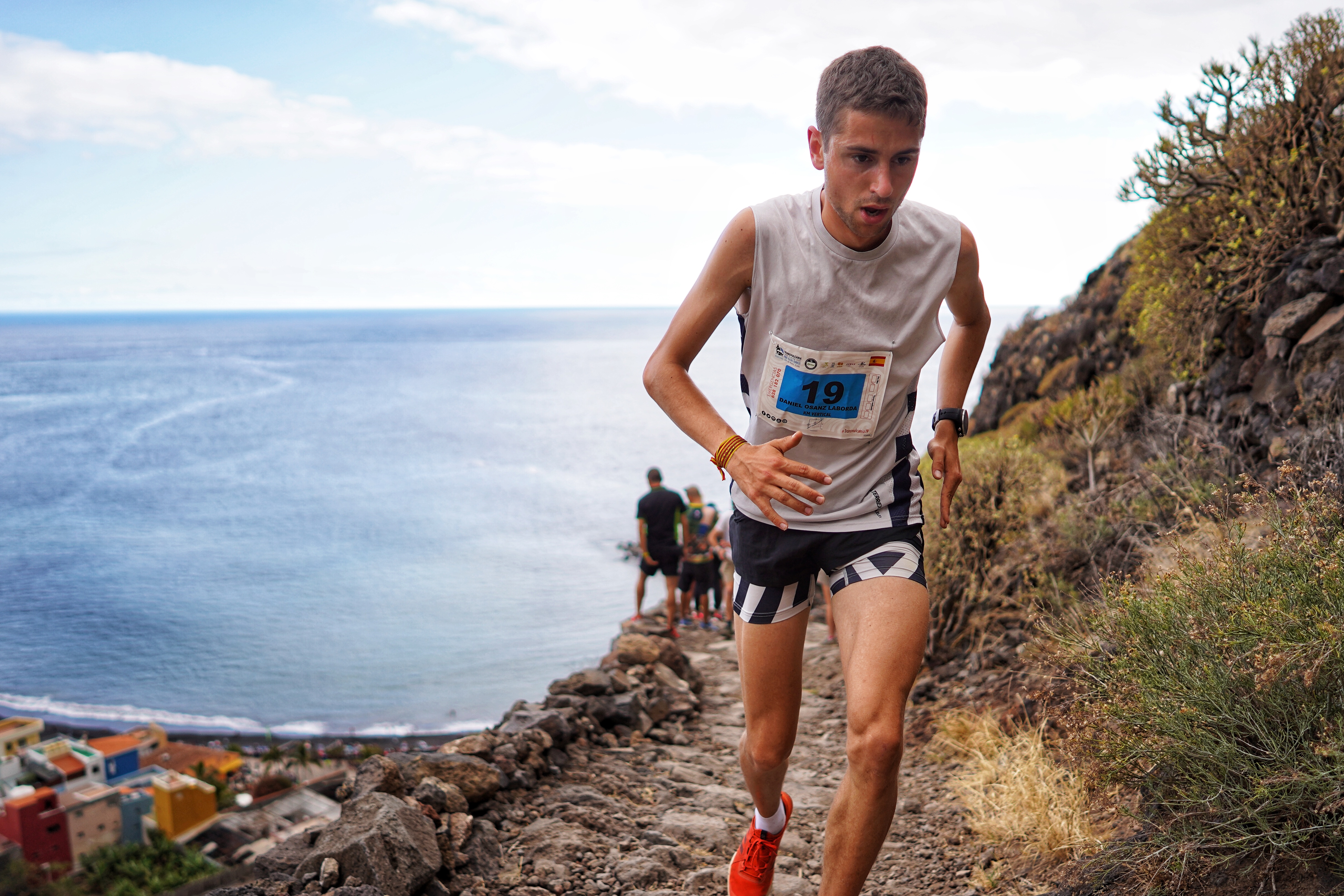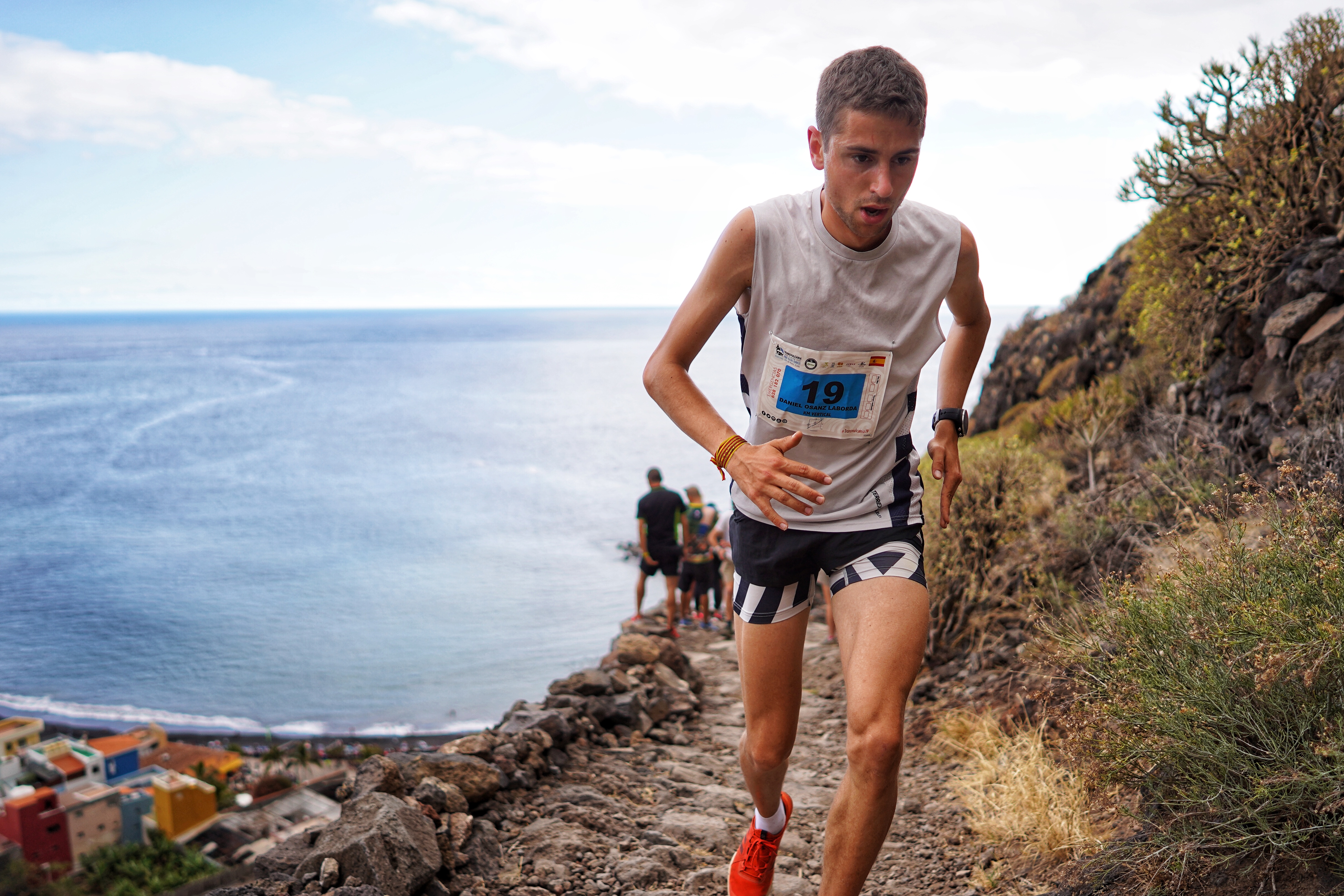 The volcanic island of La Palma saw an impressive lineup at the second race of the Vertical Kilometer® World Circuit on May 9th 2019, but it was 20-year-old Daniel Osanz (ESP) Adidas Terrex, who stole the show with an incredible win.
Around 200 runners took to the shores of the Puerto de Tazacorte beach on the beautiful island of La Palma for one of the longest courses in the Vertical Kilometer® World Circuit. After 7,6 km and a tough 1,200m uphill climb, young star, Daniel Osanz (ESP) Adidas Terrex, surprised everyone by beating running legend and idol, Luis Alberto Hernando (ESP) Adidas Terrex, to first place.
"I really prepared for this race. I knew that I was performing well but it wasn't until Luis passed the finish line that it sunk in that I had won. Luis has always been my idol so sharing the podium with him is a dream come true for me." said the young champion who is 20 years Hernando's junior. Osanz crossed the finish line in 48'42", followed by Hernando with a time of 49'47" and Alexis Sévennec (FRA) Scott Running, in 3rd in 49'48". Aritz Egea (ESP) Salomon, missed out on the podium by a split second, finishing fourth ahead of Marco De Gasperi (ITA) Team Hoka One One / Compressport.
Hernando, who seemed happy to pass the baton on to his younger team mate explained,"I'm happy that he's had a really good result. He deserves the win. After training together, I've seen how fast he can move, so it was no surprise that he won today."
The women's race was won by Jessica Pardin (FRA) La Sportiva, with a time of 58'38". "I didn't think I would win today. I wanted to do the vertical last year but it wasn't possible so I'm just happy to be here, it's a beautiful race." Said the French runner who placed 2nd last year in the overall ranking.
Other rising stars on the podium today were Gisela Carrion (ESP) Inverse, and Yngvild Kaspersen (NOR) Adidas Terrex. Carrion, who recently placed 6th at the Mt. Awa Skyrace in Japan last month, surprised even herself by storming to the top of the course with an impressive time of 59'59", missing out on the first place by just one minute but beating Yuri Yoshizumi (JPN), 2017 race winner and 2019 favourite. "I'm super happy because the level was very high in this vertical kilometer so this was a warmup for Saturday's half marathon." says Carrion. We can expect to see big things from her in the future.
Kaspersen closed the podium with a time of 1h00'50", followed by Yoshizumi in 1h01'23" and Virginia Perez Mesonero (ESP) Berg Outdoor, came in 5th with a time of 1h01'29".
The Transvulcania VK was a great way to kick off the weekend of races on La Palma. Next on the agenda is the Transvulcania Ultramarathon on the 11th of May, the 3rd race of the Migu Run Skyrunner® World Series and 1st SuperSkyrace of the circuit.
The next race in the Vertical Kilometer® World Circuit is the Santana Vertical Kilometer in Portugal, on May 31st. Tune in to see if the young team can continue their winning streak.
2019 Transvulcania VK results
Women:
1. Jessica Pardin – 58'38"
2. Gisela Carrion – 59'59"
3. Yngvild Kaspersen – 1h00'50"
4. Yuri Yoshizumi – 1h01'23"
5. Virginia Perez Mesonero – 1h01'29"
Men:
1. Daniel Osanz – 48'42"
2. Luis Alberto Hernando – 49'47"
3. Alexis Sévennec – 49'48"
4. Aritz Egea – 49'48"
5. Marco De Gasperi – 50'32"