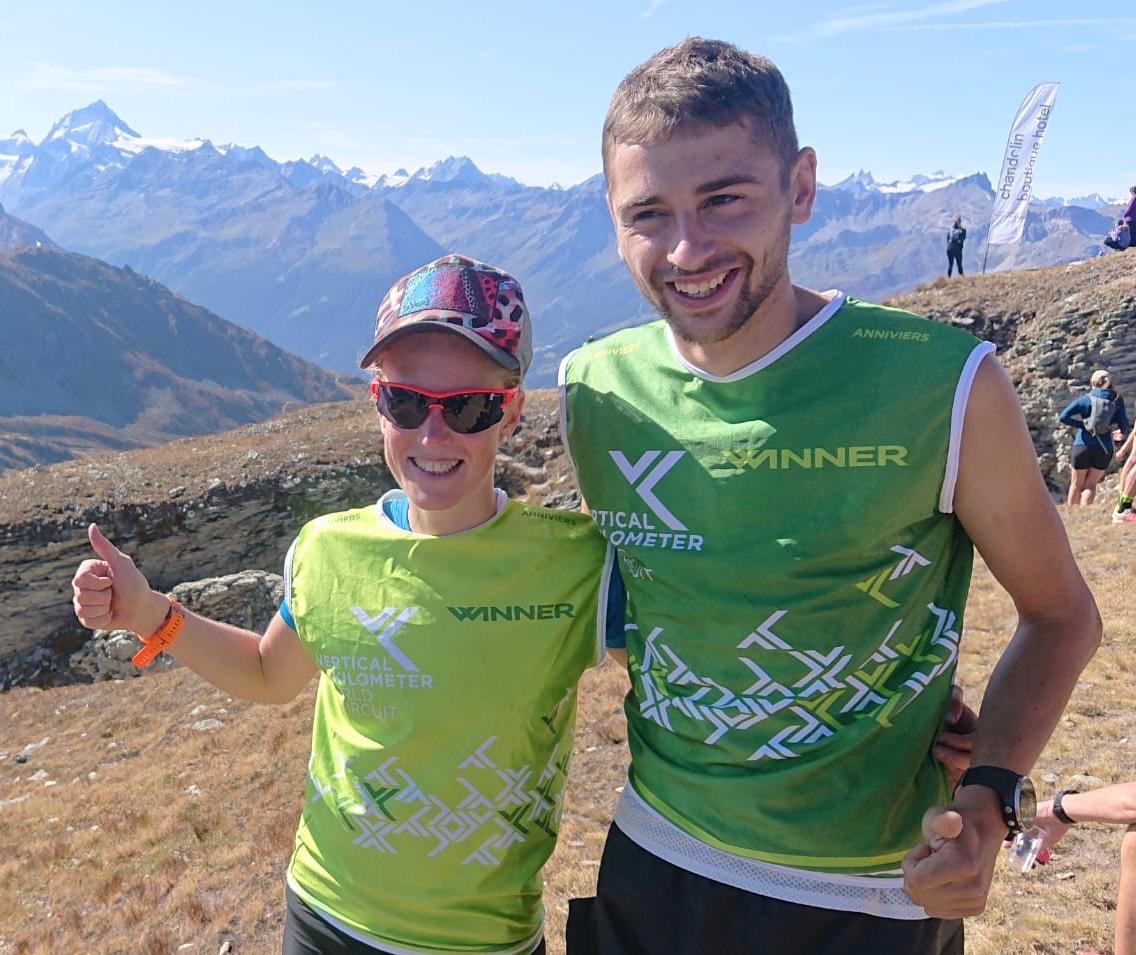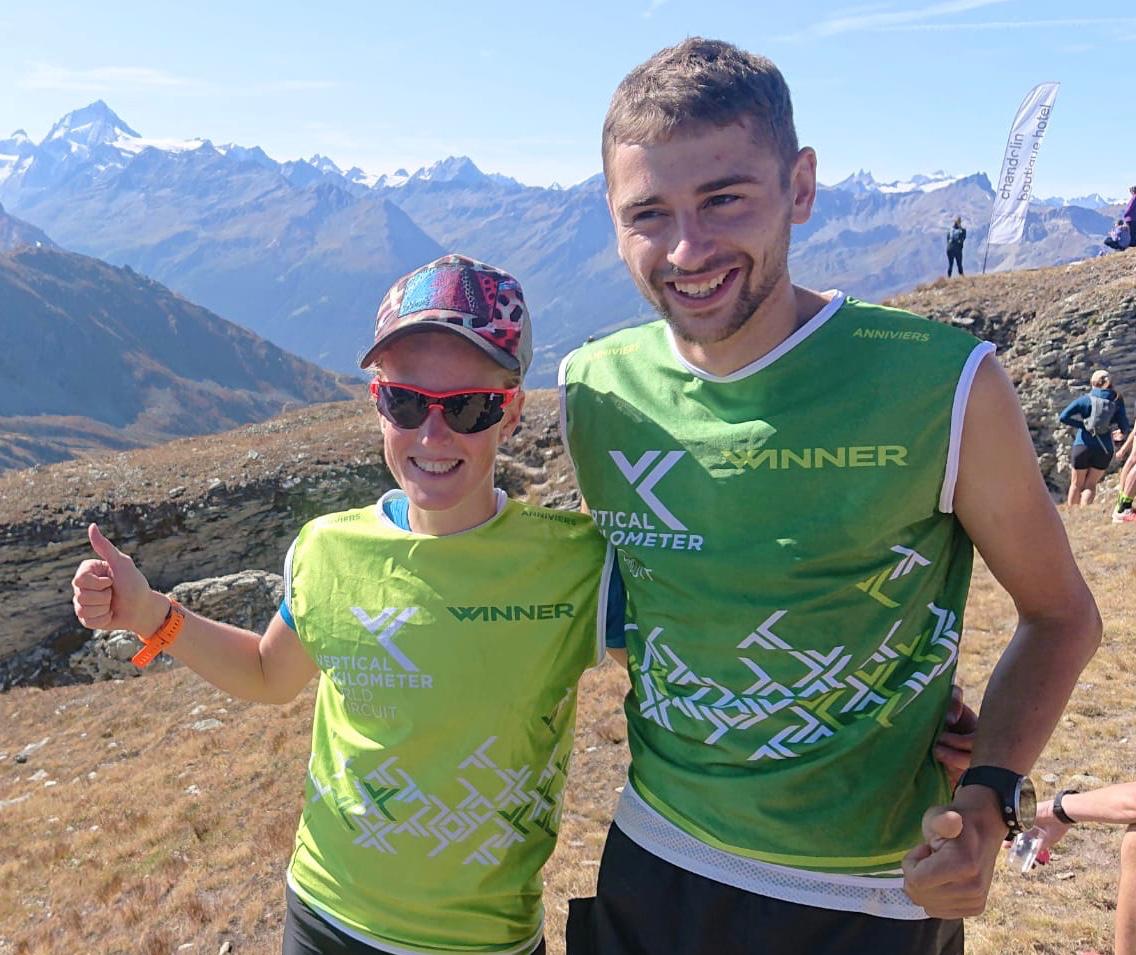 Spain's Daniel Osanz scores his third win of the 2019 Vertical Kilometer® World Circuit and Switzerland's Victoria Kreuzer, her second, at Swiss double VK, Les KM de Chando.
Les KM de Chando, the last race before the final of the Vertical Kilometer® World Circuit, attracted an impressive and international lineup to Chandolin in the Swiss valley of Anniviers. With 2,000m of vertical gain over 7.7 km, it is the circuit's only double VK, reaching a maximum height of 2,720m with a unique finish line on the summit of the Illhorn.
Although today's female champion, Victoria Kreuzer, was unable to beat Christel Dewalle's 2017 record of 1h21'29", it was a special win with an extra meaning for the Swiss athlete who finished an impressive 10th overall with a time of 1h24'44".
"It's a wonderful race and the weather here is always on our side. I was slightly tired at the beginning but as I continued I felt better and better. This is a special race for Martin [Anthamatten] and I and one we return to each year to remember our friend, mountain guide and race organiser, David Salamin, who sadly passed away a few years ago." said Kreuzer.
After two second place finishes in 2017 and 2018, Kreuzer finally earned the winning title today. This is her second solid victory of the season following an impressive win at the Bei K3, the world's only triple VK, in Italy, last month. Corinne Favre of France, finished second, a whopping six minutes behind Kreuzer and Alessandra Schmid of Switzerland closed the podium just 40 seconds behind Favre.
With just two and a half minutes between the top three male runners, the men's race was considerably closer. After 1h13'26", Daniel Osanz of Spain was the first to arrive at the top, four minutes short of Rémi Bonnet's 2018 record. Just 40 seconds behind Osanz was Martin Anthamatten of Switzerland followed by fellow Swiss runner, Dominik Rolli, in third place.
"It is my first time here and what a great race,"said the male champion, Osanz, "I was embroiled in a tough fight with Martin until 1,600m of vertical gain where I managed to escape and get ahead and he was unable to catch up with me. It was important for me to win here today so I could get into the lead of the overall ranking before I travel to Grand Serre to fight for the world title."
Following his win today, Osanz climbs back into first place in the overall ranking and Kreuzer sits in fourth.
All attention now turns to the final race of the circuit, Verticale du Grand Serre, in France on the 29th of September. Not only is this the shortest and steepest VK in the world – 1,000m vertical gain in 1.8 km – it's also a bonus race, awarding 50% extra points for the overall ranking. With an attractive €2,000 bonus prize at stake here for breaking the men's and women's VK world record, we can expect to see the best gravity-defying runners put their skills to the ultimate test.
Les KM de Chando 2019 Results:
Men
Daniel Osanz (ESP) Team Adidas Terrex – 1h13'26"
Martin Anthamatten (SUI) Team Adidas Terrex – 1h14'06"
Dominik Rolli (SUI) Team Salomon – 1h15'58"
Benoit Gandolfi(FRA) Team Ceramiq – 1h18'07"
Yoann Caillot (FRA) Team Méribel Sport Montagne – 1h18'04"
Women
Victoria Kreuzer (SUI)Team Adidas Terrex – 1h24'44"
Corinne Favre (FRA) Team Lafuma – 1h30'24"
Alessandra Schmid (SUI) Team Salomon – 1h31'44"
Marianne Fatton (SUI) Team Salomon Switzerland – 1h34'35"
Cristina Favre (SUI) Team Famifavre/CRO – 1h39'05"