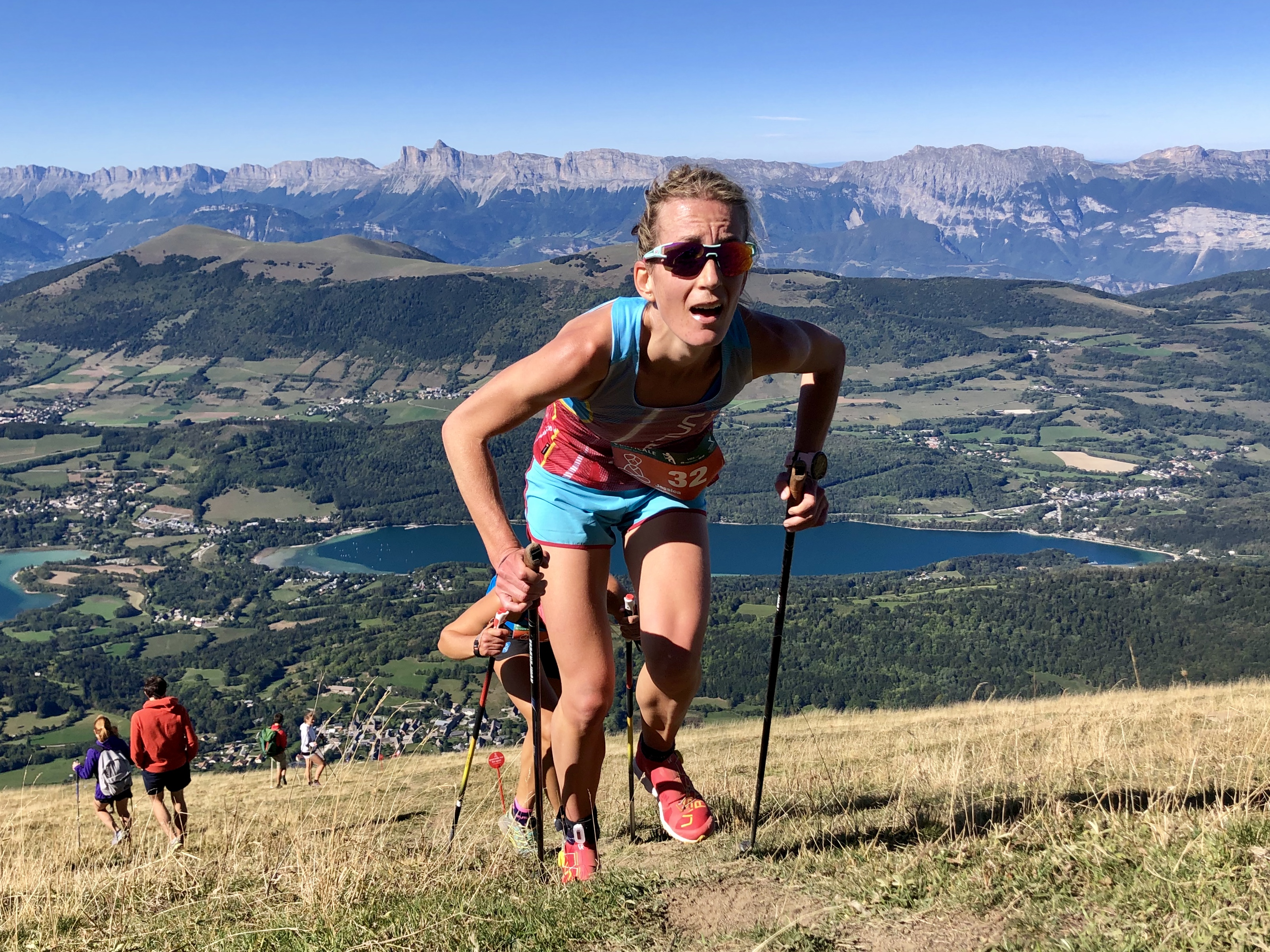 Daniel Osanz and Jessica Pardin are crowned the 2019 Vertical Kilometer® World Circuit champions at the final race of the series, Verticale du Grand Serre. Axelle Gachet-Mollaret also bags €2,000 bonus prize for breaking the world record at the shortest and steepest VK race in the world.
The spectacular grand finale and last bonus race of the eight-race 2019 Vertical Kilometer® World Circuit was held today on the Verticale du Grand. With a painfully impressive 1,000m of vertical climb over a distance of just 1.8 km, it is known as the world's shortest and steepest VK race.
Good weather, great conditions and race organizers doing everything they could to ensure the athletes could tackle the course as fast as possible, resulted in a new world record and an enjoyable day in the mountains with rewarding views for both spectators and racers.
With an incredible time of 34'01", Axelle Gachet-Mollaret had the world at her feet today as she became the new 2019 world record holder. The French runner destroyed her 2018 record time, therefore sealing the deal on the €2,000 world record bonus prize.
"It's a different feeling this year," she said, "Last year was more emotional because it was unexpected but this year it was my objective. Sub 34′ would have been nice but I am not frustrated that I didn't achieve this. I've had a great day and I'm very satisfied with the result. I don't compete in the circuit because my focus is ski-mountaineering but I always enjoy coming back to this exceptional course. It's great preparation for my ski season."
Keeping it in the family, Gachet-Mollaret's husband, Xavier Gachet, was the fastest man to reach the 2,140m finish line. The Frenchman was unable to break the world record and finished just two minutes short of Rémi Bonnet's 2018 course record with a time of 32'15".
"I didn't feel in top form today so my time was considerably slower than I expected. It has always been a dream of mine to come here and win this race, so regardless of the time, I'm proud of my achievement." said the 2019 race winner. "Like my wife, I am also more focused on the ski-mountaineering season but after today's result I am motivated to train in this discipline so hopefully I can return to a course like this one and achieve a time of sub 30′."
Although the French power couple dominated today's race, the overall victories of the season went to Daniel Osanz of Spain and Jessica Pardin of France. Both proudly took their place on the podium at Verticale du Grand Serre to be crowned the 2019 Vertical Kilometer® World Circuit champions. The ranking took into account a maximum of the five best results, awarding an end of season bonus pool amounting to €10,000.
Female circuit winner, Pardin, who walks away with an impressive two wins and a second-place finish, reflects on her successful VK season:
"I can't put into words how it feels to win the circuit. I've had a good feeling about the season since my first victory at Transvulcania. There was a strong field at that race and I didn't expect to win, so this gave me a lot of confidence. I've loved taking part in the circuit this year and traveling around and discovering new places. My best memory of the season has been my win at Transvulcania. I was aiming for top five or top ten so to arrive at the finish line and find out that I had won is an indescribable feeling. I will now return to ski-mountaineering for the winter and prepare for the VK World Championship next year, where I aim to make the podium again. Maybe I'll do some skyraces next year too…who knows! For me, it's disappointing that this discipline does not get the media coverage it deserves. I hope in the future that the Vertical Kilometer becomes more recognized and people understand what it takes for us athletes to win such a world circuit. I have hope for the future of the sport."
Second in the overall ranking was Japan's Yuri Yoshizumi and third went to Oihana Azkorbebeitia of Spain.
The men's overall winner, Daniel Osanz, a young and very talented medical student from Spain, achieved what he set out to do from day one. Here's what the breakthrough athlete had to say about his season:
"This race was so steep and I suffered a lot today. I tried to stay in control and keep my focus on the overall ranking so I didn't want to let Camille get ahead of me. It worked in the end. What a great way to end the circuit. This has been a long season. I started with Transvulcania and since then I've managed to achieve three victories and two third positions. Transvulcania was the highlight of my season for sure. I really suffered for every one of those victories and today maybe even more. I owe this win to my family and all the people who have supported me throughout the season. Now that I've won the VK World Circuit, next year, I would like to participate in the Migu Run Skyrunner World Series and see how that goes. It's my next goal for 2020."
Camille Caparros of France took second position overall and fellow Frenchman, Yoann Caillot, came in third.
The Verticale du Grand 2019 Results:
Men
1. Xavier Gachet (FRA) Team Scarpa/Karpos – 32'15″
2. Yoann Mougel (FRA) – 32'34″
3. Daniel Osanz (ESP) Team Adidas Terrex – 32'52″
4. Arthur Blanc (FRA) Team Scarpa/Karpos – 32'56″
5. Gédéon Pochat (FRA) Team Salomon France – 33'06″
Women
1. Axelle Gachet-Mollaret (FRA) Team La Sportiva – 34'01″
2. Jessica Pardin (FRA) Team La Sportiva – 36'00″
3. Marianna Jagercikova (CZA) Team Dynafit – 40'06″
4. Corinne Favre (FRA) Team Lafuma – 40'59″
5. Amélie Bertschy (SUI) Team Scott Running – 41'07″
2019 Overall Ranking Top 3 Results:
Men
1. Daniel Osanz (ESP) Team Adidas Terrex – 525pt
2. Camille Caparros (FRA) Team Raidlight – 372pt
3. Yoann Caillot (FRA) Team Méribel Sort Montagne – 362pt
Women
1. Jessica Pardin (FRA) Team La Sportiva – 560pt
2. Yuri Yoshizumi (JPN) Team Medifoam – 332pt
3. Oihana Azkorbebeitia (ESP) Team Euskal Selekzioa – 313pt