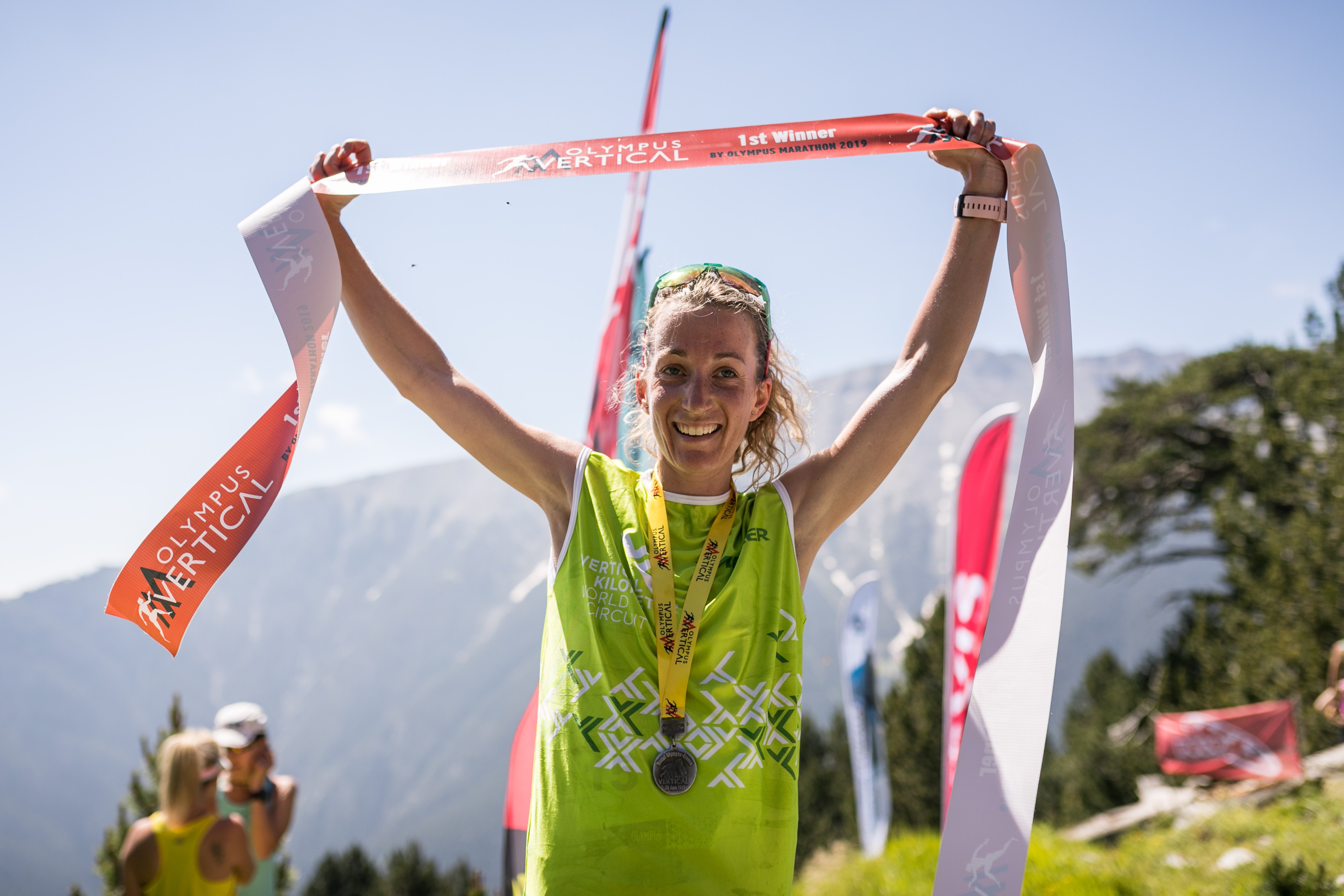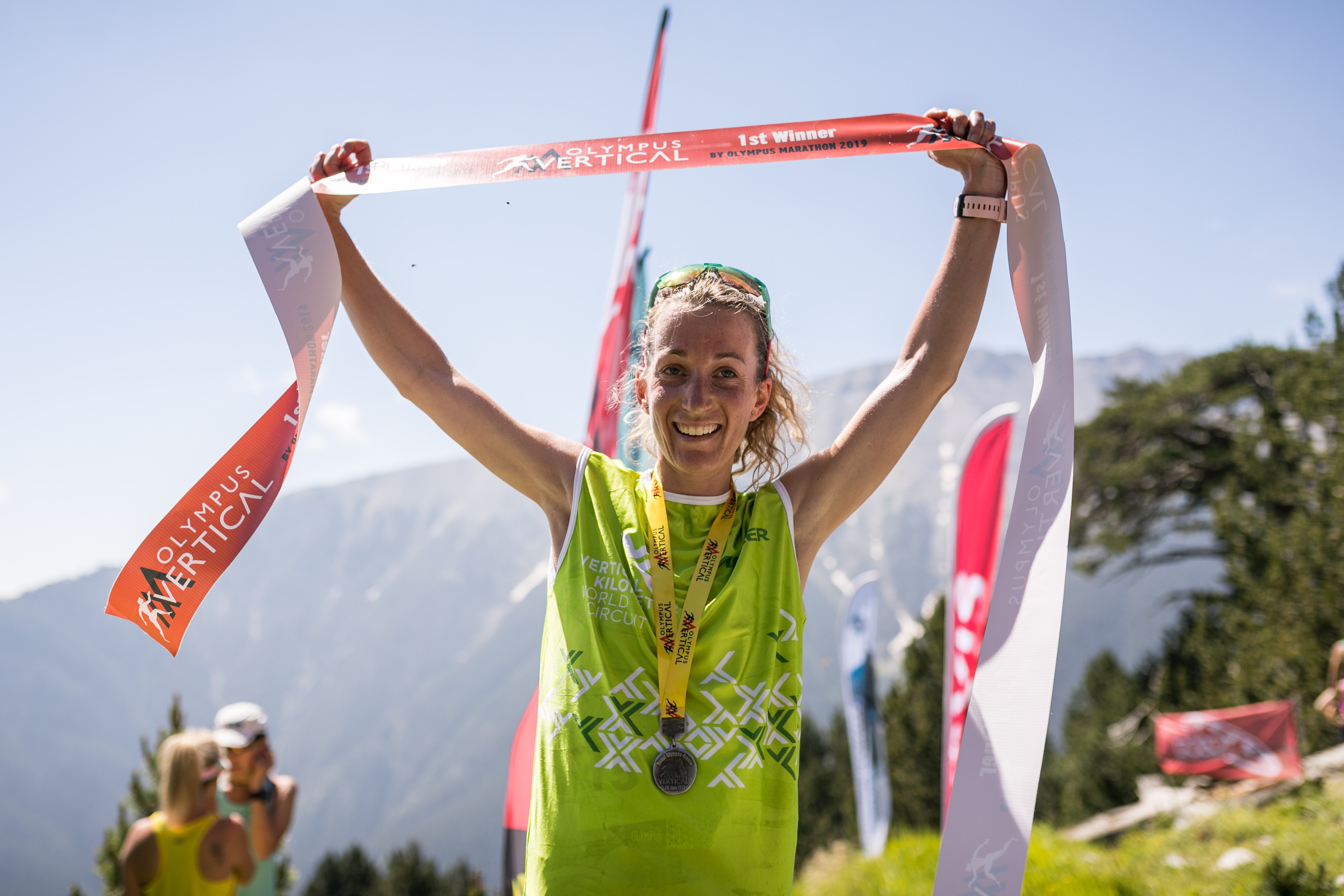 It's known to be the toughest race of its kind in Greece, but the Olympus Vertical was no match today for a strong group of French runners who dominated the men's podium and took home the win for the women.
June 28, Prionia, Greece – After a tough uphill battle in the Greek heat, it was clear that the Gods of Mount Olympus were in favour of the French today. Olympus Vertical, the fourth race of the 2019 Vertical Kilometer® World Circuit, saw an all-French male's podium as well as Camille Caparros and Jessica Pardin storm to the top and triumph over a field of international runners.
Starting at 1,100m, the 4.3 km course reached a maximum height of 2,100m, over loose rock and technical forest terrain before finishing in the shadow of the mighty Mount Olympus and the Throne of Zeus.
Male champion, Caparros, explained that his win was driven by his previous result of the circuit where the French runner shared his first place podium position with Daniel Osanz from Spain – a result he was not prepared to repeat again today.
"This is a legend and mystical mountain so it's amazing to win here. It was a very different race compared to Madeira. I was really disappointed to share the podium last time so that motivated me to push harder so that I could run alone and be sure to have the first place podium to myself," said Caparros who was the fastest of the three leading Frenchmen today with a time of 39'41".
"Benoit was really fast in the first half of the race so I was worried for a little but I felt strong and managed to pull away and make a gap. It was good to see both my friends in second and third place behind me. It's an amazing day for our team and for France! It must be the French touch!"
Second place was Yoann Caillot with a time of 40'24", and Benoit Gandolfi closed the French podium in 41'51". Despite a terrific outcome for his country, Caparros will miss out on the victory celebrations this evening to rest and recover for his second race of the weekend tomorrow morning – the 42 km with 3,200m vertical gain, Olympus Marathon.
As if an entire men's podium wasn't enough victory for France today, first woman, Jessica Pardin, proved it's not just the French men who are made for uphill running. Today's leading lady put up a good fight against Yuri Yoshizumi of Japan in the extreme Greek heat, crossing the finish line first with a time of 48'03".
"I've never done this race before but the course and terrain are perfect for me. I have to admit though, today was tough and I really struggled against Yuri. I felt like I had no legs and it wasn't my best race but I pushed on the uphill and managed to get ahead of her so it paid off. I'm delighted for the other French runners today and proud of what we've achieved. With another good performance, I hope I can go on to win the circuit now."
Japanese mountain running star, Yoshizumi, finished three minutes behind Pardin in second place with a time of 51'21" followed by local marathon runner, Soultana Toka, of Greece who put on an impressive performance at her first ever VK finishing in 1h00'21".
After being awarded 50% extra points for the second Bonus VK of the season, both of today's winners, Pardin and Caparros, now lead the 2019 overall ranking. The next race of the circuit is one you definitely don't want to miss, the BEI K3 in Italy on July 27 – the only Triple Vertical Kilometer® race in the world.
2019 Olympus VK Results:
Women:
1. Jessica Pardin (FRA), La Sportiva – 48'03"
2. Yuri Yoshizumi (JPN), Medifoam – 51'21"
3. Soultana Toka (GRC), All Terrain Runners – 1h00'21"
4. Anna Grigoryeva (RUS) – 1h07'57"
5. Panagiota Rapti (GRC), Myathlete – 1h09'38"
Men:
1. Camille Caparros (FRA), Raidlight – 39'41"
2. Yoann Caillot (FRA), Méribel Sort Montagne – 40'24"
3. Benoit Gandolfi (FRA) – 41'51"
4. Åkernes Rimereit Lars (NOR), Eidsdal IL – 42'44"
5. Georgios Dialektos (GRC), Salomon Hellas – 43'55"